Copper & Nickel Bath Finishes


Painted
---
At Hurlingham Baths, they believe that you should never have to settle or compromise but rather your bath should be an extension of your individual decor decisions. This is why they offer a customer paint finish. Hurlingham Baths can replicate any paint hue including all of the Farrow and Ball range. You can also choose from a full selection of liquid metal paint finishes.
For those more unusual selections all we need is a physical sample and Hurlingham Baths will transform your bath into the stand out item you desire in no time at all!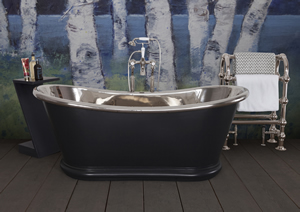 Leather

---
Choose from a selection of rich high quality leathers in a number of warm finishes to either create a full surround or a luxurious rim.
Hurlingham Baths cut the leather to the individual bath template (4pieces in total) with each seam being stitched. Prior to fitting the leather, the bath is sanded down to the smoothest possible finish to ensure there are no blemishes in the final finish. Once satisfied, a first stage glue is applied to the bath and left to set. We then stretch the leather and apply the second stage of glue before bonding the leather to the bath itself which is then left to dry.
Only when the craftsman is fully satisfied, the bath will have the final stage of water proofing spray applied which is repeated three times to fully protect the bath. This final process allows the baths to be used as much as desired without worrying about any damage occurring to the leather.