10 Great Industrial Lighting Ideas
When you're decorating or revamping your home, lighting plays a huge role in the way that your home flows and in the atmosphere of your end result. With so many options to choose from and not enough time to try all of them, let's run through 10 of the best industrial lighting ideas to give you some inspiration!
This DIY creation
This lamp caught our attention on Pinterest. Now, unfortunately, it is a DIY project, so you can't buy it. We just love the design as it captures the quintessential elements of industrial style so perfectly – it's harsh and rugged, yet sleek. Concrete is about as industrial as you can get – and this light would make an excellent statement for your guests to talk about. Reinforced with steel wire, this look completes itself. While this is quite a basic idea, the execution is flawless, and it would look absolutely fantastic in any industrial or minimal home.
This elegant conduit lighting solution
Now, I've come across a lot of conduit light designs. Nearly all of them are intended to look somewhat unfinished, rough or exposed to complement traditional factory conversions and their array of exposed architectural elements. This, however, is an extremely elegant and somewhat genius way of playing with conduit to make sophisticated patterns – in the right room this would look sophisticated and extremely high-end. The endless possibilities of industrial design are what makes it so fascinating and beautiful to appreciate.
Above the bed
Now, this exemplifies everything we love about pendant lights – the effect is truly beautiful AND it's effortless to recreate. Imagine lying beneath your own sea of filament bulbs – to switch things up, you can use different bulb shapes, too. Everything about the way that the lighting is positioned, taking advantage of the bed and headspace, even down to the fine details, such as the hooks and just the wiring itself – it all adds up to create a design that is simplistic yet incredibly effective. This is a wonderful mezzanine space that benefits from industrial style dramatically.
There's a spider in the room…
And it looks fantastic! This sleek, minimally designed Berlin bar is sporting this brilliant spider light design across both rooms pictured. The concept is understated and simple, yet has a significant impact on the space. You can easily recreate this look in your home rather inexpensively. The great thing about spider lighting is that you can be as ambitious as you want. If you're not feeling a design that'll spread out across your entire ceiling, then you can go for a more compact pattern. You can position the hooks wherever you'd like, and there are great possibilities with being able to set bulbs at different heights. Who'd have thought some string lighting could be so effective?
Never go alone
We've discussed this before on our blog, but grouping lights is a great way to achieve a high-end finish with relative ease. The designs here are simple, yet they grab your attention immediately. The black and steel traditional overhead industrial shades are oversized and look like they could've been ripped straight from a factory – and that's what we love. Paired with the high ceiling and the positioning over the dining room table, they achieve maximum impact, making for an excellent talking point.
 This bathroom has got some pipes
This type of conduit lighting is the style that we're more familiar with – no patterns, just the simple exposed look. The way that the conduit has been shaped to make room for two lights either side of the mirror is a genius idea. The real genius in this concept, however, is in the bulbs. Slim, tube Edison bulbs have been used, and they change the aesthetic of the whole room completely, compared to the effect that a standard Edison bulb would've had. This design is verging on modern because of that, making for an appealing industrial modern crossover that is exceptionally sleek.
Shipyard lighting
Now, this is how you create a coastal theme in your bathroom. Pendant lights positioned either side of the mirror offer symmetry and the overall theme of the room sets off these industrial shipyard pendants. More importantly, even though the bathroom already has a unified look, the lights bring out the rugged elements of the mirror and the basin frame – transforming the space with a masculine touch of clean, galvanised steel. Again, the pendants are oversized but look stunning if you're a feeling a little brave.
Bring a bottle
Here we have another DIY creation that creates a beautiful industrial aesthetic. This design is fantastic as it is relatively simple to recreate if you know what you're doing, and highlights the versatility of industrial lighting. Here, wine bottles and a piece of wood have been transformed using filament bulbs and some pendants. What's not to like? These makeshift shades enhance the appearance of the warm Edison lights, as does the wood, making for a rustic, cozy piece that is still quite brazen and different.
This fan lamp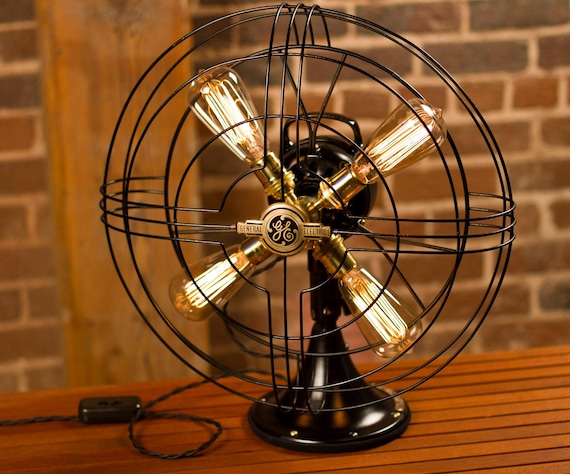 The greatest industrial pieces come from recycling vintage or retro parts to create something innovative and eclectic, and this design excels wonderfully at that. With the classic fan design, this light has the details nailed, and it looks absolutely stunning. The black cage against the warm glow of the filament bulbs creates a great juxtaposition, granting the lamp more of those rugged, bold design elements that we love. The high-quality finish is what completes this steampunk inspired piece, complete with original 1940s General Electric Vortalex Fan – yep, that's no reproduction, this design is meticulously created, down to the finest details.
Last but not least
Lastly, I wanted to have some fun with the conduit designs out there. This DIY project is a perfect example of the Industrial lamps that you can recreate yourself – if you know what you're doing – at a relatively cheap cost. This light has a globe filament bulb, and suits the industrial style down to a tee, with added USB charger ports. Functional and stylish, what more could you ask for? This piece would look great in an office space, positioned on a desk or on a table in your living room as a reading light. As well as being suited to industrial homes, these last two picks wouldn't look out of place in Victorian properties, with their antique properties and ornate details.